[vc_row][vc_column][ultimate_heading main_heading="Accomodation" main_heading_color="#1a5db0″ heading_tag="h1″ margin_design_tab_text=""][/ultimate_heading][/vc_column][/vc_row][vc_row][vc_column][vc_column_text css_animation="bottom-to-top"]
The Convitto San Giorgio is in Via G. Galilei 67, a short walk from the historic centre of Brescia, close to all universities of the town, easily reached by bicycle or by public transport. The College is also very close to the Castle and to the mountain called La Maddalena, fantastic natural park of Brescia, with green spaces and beautiful nature trails.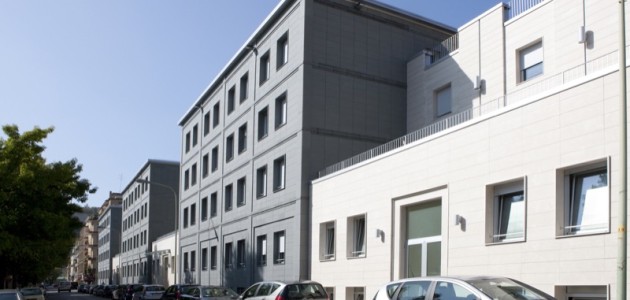 BY TRAIN and METRO: out of the station on the right, Metrobs station, Prealpino direction. Arrive to Marconi station, then across the roads towards Via Galilei. BY CAR: The Convitto remains in the north side of the castle of Brescia. Take the motorway towards Civil Hospital and stadium.
[/vc_column_text][/vc_column][/vc_row][vc_row][vc_column width="1/4″][imedica_ititle title="Mensa Self Service" icon="Defaults-cutlery" icon_size="30″ title_font_size="20″ icon_color="#ffffff" el_class="h2″ title_font_color="#ffffff" fold_light_color="#ffffff" css_wrapper=".vc_custom_1460920284014{background-color: #707070 !important;}"][/vc_column][vc_column width="1/4″][imedica_ititle title="Servizio Portineria" icon="Defaults-user" icon_size="30″ title_font_size="20″ icon_color="#ffffff" el_class="h2″ title_font_color="#ffffff" fold_light_color="#ffffff" css_wrapper=".vc_custom_1460920293996{background-color: #707070 !important;}"][/vc_column][vc_column width="1/4″][imedica_ititle title="Sala TV" icon="Defaults-play" icon_size="25″ title_font_size="20″ icon_color="#ffffff" el_class="h2″ title_font_color="#ffffff" fold_light_color="#ffffff" css_wrapper=".vc_custom_1460919828180{background-color: #707070 !important;}"][/vc_column][vc_column width="1/4″][imedica_ititle title="Sale Studio" icon="Defaults-book" icon_size="25″ title_font_size="20″ icon_color="#ffffff" el_class="h2″ title_font_color="#ffffff" fold_light_color="#ffffff" css_wrapper=".vc_custom_1460919833666{background-color: #707070 !important;}"][/vc_column][/vc_row][vc_row][vc_column width="1/4″][imedica_ititle title="Cappella" icon="Defaults-check" icon_size="30″ title_font_size="20″ icon_color="#ffffff" el_class="h2″ title_font_color="#ffffff" fold_light_color="#ffffff" css_wrapper=".vc_custom_1460919892069{background-color: #707070 !important;}"][/vc_column][vc_column width="1/4″][imedica_ititle title="WiFi" icon="Defaults-wifi" icon_size="30″ title_font_size="20″ icon_color="#ffffff" el_class="h2″ title_font_color="#ffffff" fold_light_color="#ffffff" css_wrapper=".vc_custom_1460919904909{background-color: #707070 !important;}"][/vc_column][vc_column width="1/4″][imedica_ititle title="Sala giochi" icon="Defaults-gamepad" icon_size="30″ title_font_size="20″ icon_color="#ffffff" el_class="h2″ title_font_color="#ffffff" fold_light_color="#ffffff" css_wrapper=".vc_custom_1460920174148{background-color: #707070 !important;}"][/vc_column][vc_column width="1/4″][imedica_ititle title="Sala informatica" icon="Defaults-desktop" icon_size="30″ title_font_size="20″ icon_color="#ffffff" el_class="h2″ title_font_color="#ffffff" fold_light_color="#ffffff" css_wrapper=".vc_custom_1460919995079{background-color: #707070 !important;}"][/vc_column][/vc_row][vc_row][vc_column width="1/4″][imedica_ititle title="Emeroteca" icon="Defaults-newspaper-o" icon_size="30″ title_font_size="20″ icon_color="#ffffff" el_class="h2″ title_font_color="#ffffff" fold_light_color="#ffffff" css_wrapper=".vc_custom_1460920210850{background-color: #707070 !important;}"][/vc_column][vc_column width="1/4″][imedica_ititle title="Sala conferenze" icon="Defaults-line-chart" icon_size="30″ title_font_size="20″ icon_color="#ffffff" el_class="h2″ title_font_color="#ffffff" fold_light_color="#ffffff" css_wrapper=".vc_custom_1460920220645{background-color: #707070 !important;}"][/vc_column][vc_column width="1/4″][imedica_ititle title="Palestra" icon="Defaults-child" icon_size="30″ title_font_size="20″ icon_color="#ffffff" el_class="h2″ title_font_color="#ffffff" fold_light_color="#ffffff" css_wrapper=".vc_custom_1460920229309{background-color: #707070 !important;}"][/vc_column][vc_column width="1/4″][imedica_ititle title="Zona Ristoro" icon="Defaults-spoon" icon_size="30″ title_font_size="20″ icon_color="#ffffff" el_class="h2″ title_font_color="#ffffff" fold_light_color="#ffffff" css_wrapper=".vc_custom_1460970901330{background-color: #707070 !important;}"][/vc_column][/vc_row][vc_row][vc_column width="1/4″][imedica_ititle title="Lavanderia a gettoni" icon="Defaults-circle" icon_size="30″ title_font_size="20″ icon_color="#ffffff" el_class="h2″ title_font_color="#ffffff" fold_light_color="#ffffff" css_wrapper=".vc_custom_1460920550837{background-color: #707070 !important;}"][/vc_column][vc_column width="1/4″][imedica_ititle title="Campi calcio, volley, basket" icon="Defaults-futbol-o" icon_size="30″ title_font_size="20″ icon_color="#ffffff" el_class="h2″ title_font_color="#ffffff" fold_light_color="#ffffff" css_wrapper=".vc_custom_1460970889441{background-color: #707070 !important;}"][/vc_column][vc_column width="1/4″][imedica_ititle title="Garage per Bici" icon="Defaults-bicycle" icon_size="30″ title_font_size="20″ icon_color="#ffffff" el_class="h2″ title_font_color="#ffffff" fold_light_color="#ffffff" css_wrapper=".vc_custom_1460920267443{background-color: #707070 !important;}"][/vc_column][vc_column width="1/4″][/vc_column][/vc_row]